Happy New Year!
By now you are aware that schools will once again be closed with learning pivoting to a remote setting for all our students at St. Brother Andre.
Yesterday, a message went home for families to request technology and pick up this technology from the school today. If you have an SBA student at home who finds themselves requiring a chromebook, please contact the school and we will facilitate this request as quickly as we can moving forward.
A few reminders as classes begin tomorrow:
1.     The schedule for the day: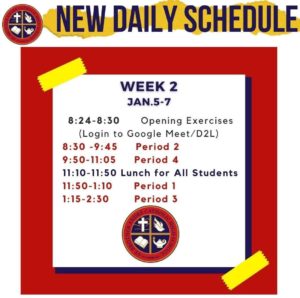 All students must log into their classes on time and will take all 4 classes in the above sequence. Next week the sequence becomes: Period 2, Period 4, lunch A, Period 3 and then Period 1.
 NOTE: If a student is present for attendance at the beginning of the class and then non-responsive when called upon or asked a question, they will be marked absent for the period.
 Students, the semester is almost over – now more than ever, persevere and stick with your classes. You can do this! We can do this!!
2.  Reporting Student Absences
If your child is ill or cannot be at school for a parent-approved absence, please continue to use the systems we have in place:
3.   Please check your Virtual Learning Environments
 Each teacher in our building either has opted to use Google Classroom or D2L. Please check the virtual learning environment for each of your classes. Some of our staff have already posted instructions and information.
4.    Access to the Building
 As of Wednesday, January 5, 2022 students and parents/guardians should not be accessing the building unless they have an appointment to do so.
All pick-ups are curbside – please call the school (905) 294-7671 to indicate what you need to pick up and for whom, and a staff member will bring this out to you.
If there is an emergency situation where something has been left in a student's locker, please call the school to make an appointment to come in. The expectation is that the student will enter, attend their locker, and leave the building. Remember, we are in a stay-at-home order which is for the health and safety of everyone.
 Finally, to respect the stay-at-home request, the office will be working with a skeletal staff on site. Your messages will be responded to, but please be patient as we respond to all emails/calls in the sequence they come in.
We are looking forward to our return to in-person learning slated for January 17, and hopeful that 2022 brings us back to more normal.
Sincerely,
Ms. Miranda Principal